Your email signature is more than just your sign-off— it's your digital business card. When you hit send, you are delivering vital information about yourself to the recipient, giving them a sense of both you and the business you represent. Your signature is also a great opportunity to further connect with your contacts and should be treated as a vital piece of your organization's branding.
With email now being the primary method of communication in business, email signatures should be as important as letterheads and branded envelopes used to be. Email signatures are an indication of your level of professionalism, so ensure that you put your best foot forward with these tips from our team.

Your email signature is as much a part of your brand identity as your logo. Incorporate the colours and fonts found in your branding for increased brand recognition among your contacts. Your signature should also include the company logo.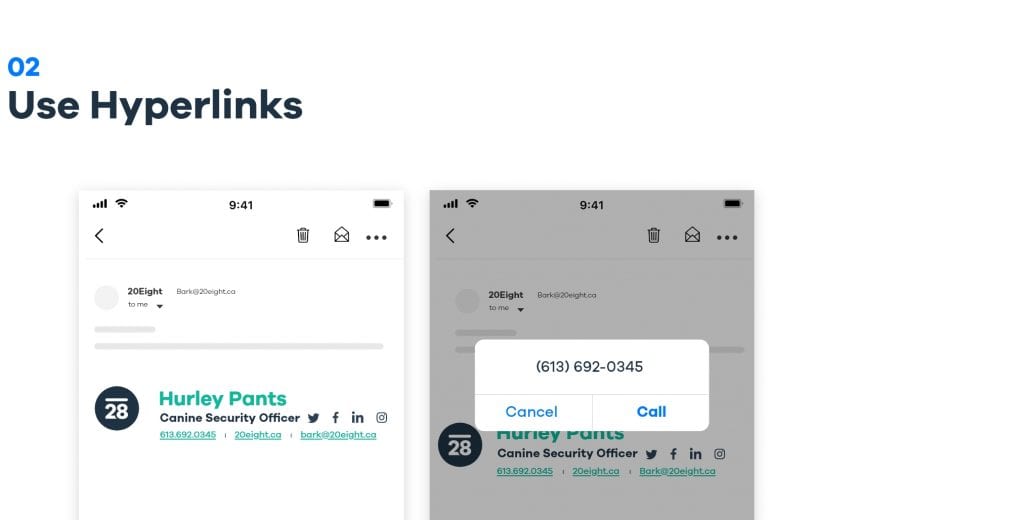 There's nothing worse than trying to call someone directly from their email signature, only to realize their typed phone number is not hyperlinked. Having to switch back and forth between your mail and phone applications is a nuisance, and slows down what should be a seamless process. Taking the time to ensure your phone number is clickable will save your contacts from frustration (and probably make them more likely to get in touch with you!).
Additionally, if you are not currently adding your social media links to your email signature, you are missing out on a great opportunity to build your company's social following. Adding small, hyperlinked social media icons beside your name can do wonders for building traffic to your online profiles, and ultimately widen your audience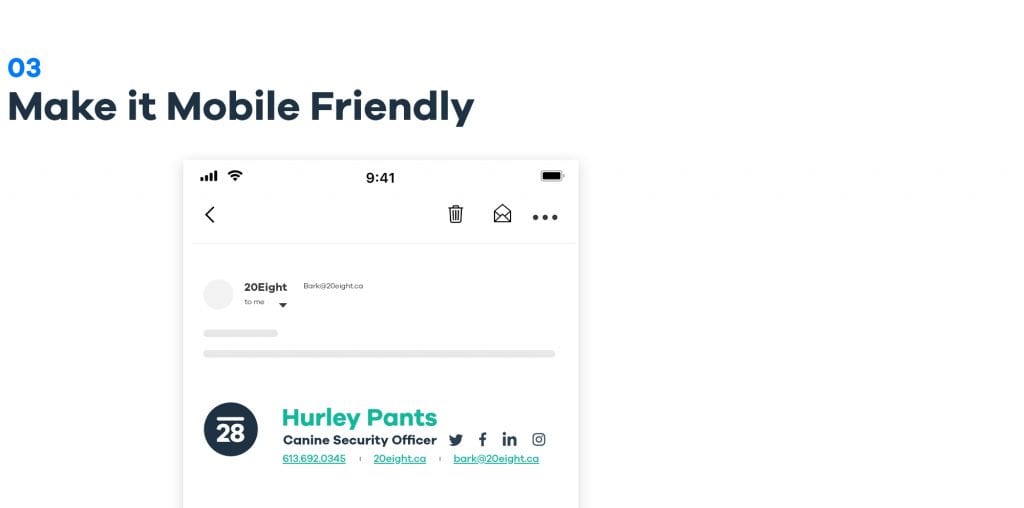 Did you know that more time is spent on mobile devices than on desktop? Knowing your audience and where they are viewing your content is imperative, as it will affect how they are receiving your message. The appearance of your email signature may differ between devices if not properly optimized. Make sure that you take mobile users into consideration when designing your email signature – they account for more than half of your recipients!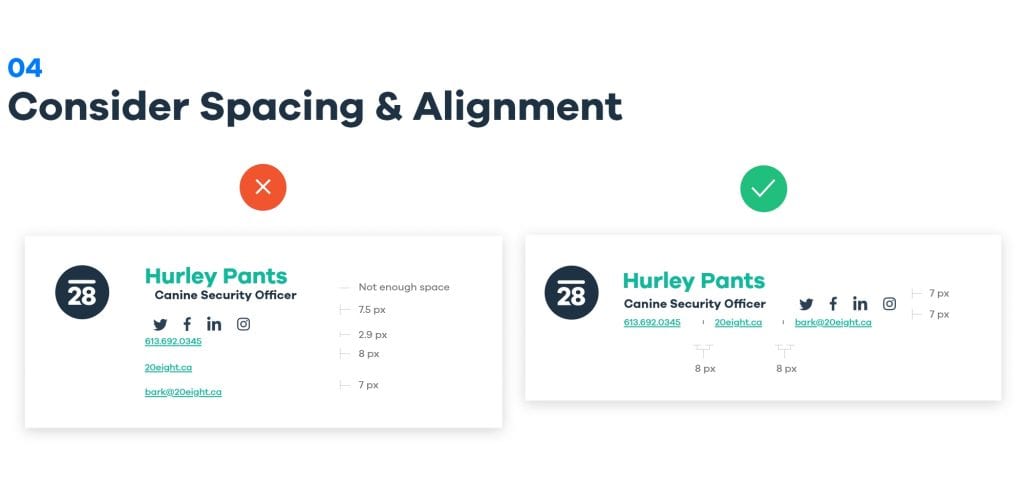 Incorrect spacing and alignment is visually unappealing and contributes to an overall unpolished presentation. Take the time to properly space the components of your signature for a more professional looking brand, projecting expertise to your contacts. Proper spacing will also make it easier for people to understand the information being sent to them, allowing them to differentiate social links from websites and phone numbers, etc.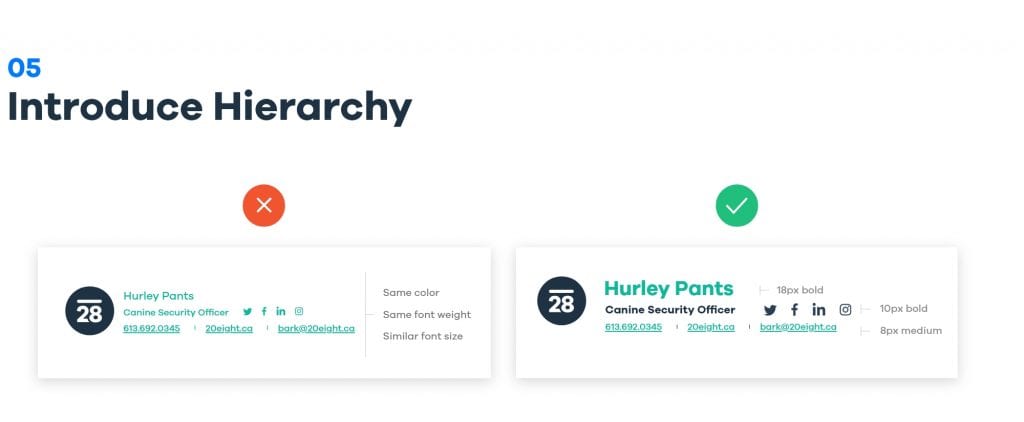 Colour, font size, and emphasis (bolds/italics) all play a role in how important a piece of information is perceived to be. While each element of your signature may be important to include, not all aspects are as important as others. Therefore, introduce some hierarchy to your signature by bolding and increasing the text size of the most vital component – your name.

Others may have the same job title as you, but no one is the same person as you! Adding a little fun and/or personality to your signature will show your contacts who you are while building closer connections. Take Hurley as an example. He may be our "office dog" but he's so much more than that! He keeps us all safe by barking at squirrels, so we call him our "Canine Security Officer". Changing up the title is a clever way to show your fun side and will help set your business apart from the competition.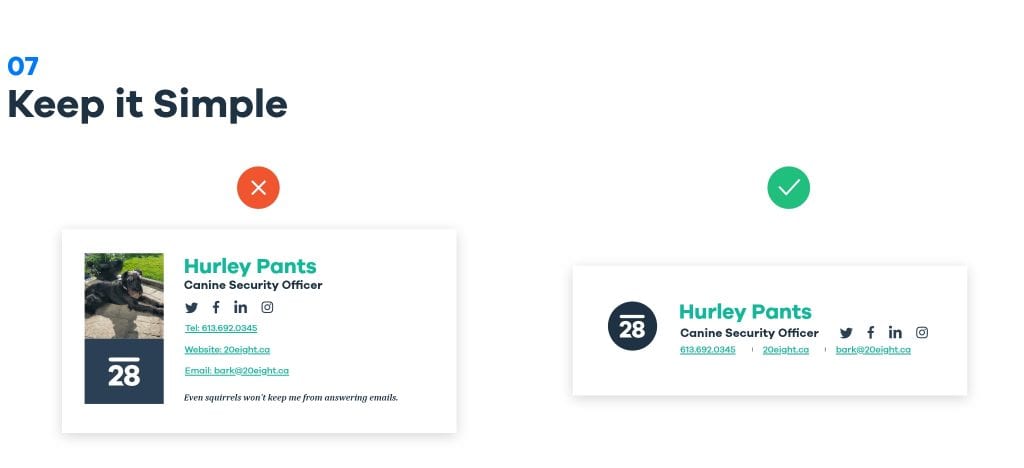 When designing the perfect email signature, it's important to remember one of the most important rules of design— keep it simple. While there are tons of colours and fonts and other creative elements to choose from, the best thing you can do for your signature is to create a clean, easy to read sign off. While many people are tempted to add headshots to their signature, we recommend that you avoid adding images. Images can ruin the overall look and feel of your signature and clutters the rest of the email.


Now that you have your new signature ready to send out to the world, take a few minutes to test it. Send and view your emails on a variety of email providers to ensure everything looks the way it should, as well as completing a check on both desktop and mobile devices.
We hope these quick tips help you understand the importance and potential impact of your digital business card. At 20Eight, we are always on the lookout for amazing features that will benefit our clients.

If you would like to get more out of your online presence and digital advertising investments, feel free to reach out to us at any time. We would love to help!
The 20Eight Team